View Times of India Newspaper Advertising Rates
USPs :

No.1 English Newspaper

Global & Local reporting
Circulation over 3.1m
Readership over 13.5m
USPs :

No.1 English Newspaper

Global & Local reporting
Circulation over 3.1m
Readership over 13.5m
Select your specific Supplement and City to get the lowest rates
Category :
Main Newspaper
Publishing Day :
All Days
According to the Audit Bureau of Circulations(India), The Times Of India is the third largest newspaper in India in terms of circulation. Owned and published by Bennett,Coleman&Co Ltd, the oldest English language daily newspaper in India has pioneered the search for truth since times immemorial. The main newspaper pervades through current affairs ranging from sports to politics to global issues of immediate significance.
---
Category :
Classifieds Supplement
Publishing Day :
All Days
Times of India Classified Ads is cost effective and ideal platform to advertise on for Matrimonial,Property,Obituary, Recruitment, Education,etc type customers. Ad cost is calculated based on the number of lines used.
---
Category :
Appointment
Publishing Day :
Wednesday
Publish Advertisement in Times Of India Ascent Wednesday to showcase Situations Vacant, Situations Abroad & other Appointment opportunities. Check Times Of India ascent advertisement rates and customize / upload appointment display ad templates to book your ad online.
---
Category :
Education
Publishing Day :
Monday
Every student's guide to education, one of the best platforms for Display Ads for Educational Institutes from across the country and abroad. Advertise yourself with Education Times!! You can reach out to a massive number of career aspirants in one go via this mainstream career guide.
---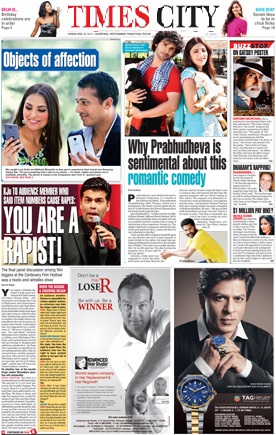 Category :
Others
Publishing Day :
All Days
Fashion, food, travel, celebrities and Page 3 news, all is to be found in One Single Pull Out named after major Indian cities like Delhi Times, Calcutta Times, Mumbai Times etc. City Times is the most vibrant and intriguing media space one can choose to advertise effectively in leading metropolitan cities of Kolkata, Delhi, Bangalore etc. One can be sure to catch the attention of the youth through advertising effectively in this arena.
---
Category :
Property
Publishing Day :
Saturday
This supplement generates maximum reader response.To get quality leads for selling or buying property by advertising in Times Property. Check the rate card of the Times Of India property advertisement as prices vary to a great extent depending on whether you are advertising in Delhi, Pune, Kolkata, Mumbai, Bangalore or any other location.
---
Category :
Others1
Publishing Day :
All Days
ZigWheels by Times of India-This is the dream haven for car dealers and enthusiasts to showcase their brands. Publish any display ad related to Cars & Automobiles in ZigWheels and get massive response.
---
Category :
Obituary
Publishing Day :
All Days
Express fond remembrances of your late relative or friend on her death anniversary, in the Times Obituary. The Times Obituary cares for your feelings and thus opens up a space where you can emote to your heart's content. Invite extended family members out there with whom you aren't in touch, to funerals and condolence meetings of near and dear ones through Time Obituary.
---
Category :
Public Notice And Tenders
Publishing Day :
Sunday-Tuesday-Wednesday-Thusday-Friday-Saturday
Publish your Notice Ads and Tender Ads or make an announcement of name change or change of address any day through the Times of India Classified & Display ads section for business ads named Business By Bids!! The ideal business pullout to publish classified & display ads related to business as well as name change,tender & other legal and personal announcements!
---
About
Times of India in the News
FAQ
About
Times of India display advertising is highly popular amongst businesses to efficiently promote their brand.Display Ads are usually placed alongside editorial content.It is termed to be a high budget medium but at releaseMyAd we make it really affordable for you.Being the leading Times of India ad booking agents we offer the most competitive rates for your display Ads.We assist you in having the right placement and right postioning for your display Ads in Times of India. We can assist you book Ads across multiple columns, full page,half page,jackets,quarter page,bookmarks and other custom sizes.We can assist you book your display Ads in Times of India in its popular pullouts mentioned below:
Times Ascent- If you have manpower requirement, then nothing would work better for you than Times Ascent display Ads as it is very popular amongst jobseekers.
Education Times- Ideal for promoting educational institutes and making Admission Open Announcements with display ads.This pullout is highly popular amongst students,so educational institutes can get an impressive admission count by promoting themselves here.
City Times- Meant to target the elite and financially well-off audiences, a haven for lifestyle, retail and FMCG display advertisers.Advertising in this pullout sections works best for brands targeting the upper-class.
Times Property-The best medium to promote real estate projects and also acquire buyers through display property ads.Advertising in this section brings high conversion for the real estate owners.
Times ZIGWHEELS-Get maximum eye-balls for anything related to automobiles with display ads in ZIGWHEELS.It is the ultimate platform for all the riders.
Business by Bids- Fulfill your Business requirements effectively with public notice, tender and business ads.
With Times of India display advertising, you can also publish Display Obituary ads in the main newspaper on any preferred page to offer your prayers, condolences and respects to your deceased loved ones. If you like you can also release Financial display ads, referring to finance scheme, mutual fund related ads placed primarily in Economic Times. To know about the booking process of your TOI display ad, click on the How to Book Tab.
Times of India in the News
FAQ