Times of India Newspaper Ad Options
No.1 English Newspaper

Global & Local reporting
Circulation over 3.1m
Readership over 13.5m
No.1 English Newspaper

Global & Local reporting
Circulation over 3.1m
Readership over 13.5m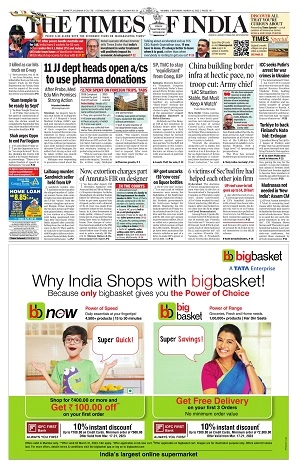 Category :
Main Newspaper
Publishing Day :
All Days
The Times of India (TOI) is a leading English-language newspaper in India. In 2005, the newspaper reported that (with a circulation of over 2.4 million) as certified by the Audit Bureau of Circulations as the world's largest selling English newspaper. Book classifieds in Times Of India to reach out to its numerous readers settled across India.
According to the Audit Bureau of Circulations(India), The Times Of India is the third largest newspaper in India in terms of circulation. Owned and published by Bennett,Coleman&Co Ltd, the oldest English language daily newspaper in India has pioneered the search for truth since times immemorial. The main newspaper pervades through current affairs ranging from sports to politics to global issues of immediate significance.
---
CLASSIFIED
---
Category :
Classifieds Supplement
Publishing Day :
All Days
Times of India Classified Ads is cost effective and ideal platform to advertise on for Matrimonial,Property,Obituary, Recruitment, Education,etc type customers. Ad cost is calculated based on the number of lines used.
Category :
Appointment
Publishing Day :
Wednesday
The Times of India pullout for careers is one of the most relied sources for the job seekers and the recruiters. This acts as the best platform for situation vacant and situation wanted advertisements. It not only informs about national requirements but also showcases international opportunities under situation abroad. Publish ads in Times Ascent on Wednesdays at the lowest rates. In order to book your ad, choose the ad type color/black and white), ad size (Quarter, Half, Full or Custom) and then customize/upload appointment display ad templates. Enjoy instant online ad booking!
Category :
Education
Publishing Day :
Monday
In order to acquire knowledge, be shilled and gain values, education is important. Now, students largely resort on Education Times and consider this to be one of the best platforms for getting guidance about the leading educational institutions within the country and also abroad.
Category :
Others
Publishing Day :
All Days
Be it fashion, food, travel, entertainment, celebrities or Page 3 news updates, all is to be found in One Single Pull Out named after major Indian cities like Delhi Times, Calcutta Times, Mumbai Times etc. So, in order to advertise effectively in leading metropolitan cities of Kolkata, Delhi, Bangalore, Mumbai etc., publish your ad in the City Times any day in a week. This pullout is the most vibrant and intriguing media space one can choose to advertise their business, commercial, education and other ads effectively. One can be sure to catch the attention of the youth through advertising effectively in this arena.
Category :
Property
Publishing Day :
Saturday
In order to get quality leads for selling or buying property, advertise in Times Property. This supplement generates maximum reader response. Be it a commercial property, factory site, property for sale, property for lease or rent, accommodation wanted, etc., you may advertise it on this pullout. The focus day of Times Property shall vary between Friday and Saturday depending on the edition you are selecting. The ad rates shall also vary to a great extent depending on whether you are advertising in Delhi, Pune, Kolkata, Mumbai, Bangalore or any other location. With releaseMyAd, you can book ads online with just a few clicks.
Category :
Court Notice
Publishing Day :
All Days
Category :
Obituary/ Remembrance
Publishing Day :
All Days
Announce the sad demise of your loved one in the Times Obituary. You may even express fond remembrance for your late relative, loved one, or close friend on their death anniversary in this pullout of Times of India newspaper. The Times Obituary cares for your feelings and thus opens up space where you can express your heart's content. Invite extended family members and close ones at the funeral and condolence meetings of your near and dear ones through display advertisements in Times Obituary. Book obituary or remembrance ads online for any day instantly!
Category :
Tenders
Publishing Day :
All Days
Category :
Public Notice
Publishing Day :
All Days
Publish your Notice Ads and Tender Ads or make a mass announcement for the public through the Times of India Business by Bids pullout. You may book display advertisements on this pullout on all days in a week. Be it a legal affair or any other corporate announcements, this pullout shall be your idle platform to advertise. releaseMyAd shall assist you to book ads online instantly by choosing the ad type (color or black and white), ad size (Full page, Quarter page, Half page, or Custom the ad size). Next, upload your ad matter or customize the ad templates
F.A.Q
Frequently Asked Questions
There are different factors that contribute to the cost of booking an ad in Times of India. The cost differs in terms of ad format you choose, the category of your choice and the number of editions you choose to publish. Classified text ads are charged per line whereas the display ads are charged on the basis of per square metre. Again the cost varies depending on the selection of page for a display ad. The advertising cost for Front Page, BackPage or Page3 is much more compared to other pages. To know more about the cost click on the link
here
.
Getting your ad published in Times of India through our website is very quick and simple. Follow the steps below: Visit Times of India page on our website. Select an appropriate category under which you want your ad to be published. It could be matrimonial,property, recruitment,business,obituary etc to name a few. Select a suitable ad format and location of your choice. Compose your ad by filling all the relevant details. Finally complete the booking process by selecting dates and making the payment. You can avail Multiple payment options that include credit cards, debit cards, net banking etc. All these payments are SSL encrypted and therefore completely secure. You can also pay offline via cheque or cash. On successful completion of your booking process an auto generated invoice is sent to your email-id confirming the Times of India advertising details. Post editorial approval your ad gets published on the selected dates.
There are different advertising options available in newspaper You can book your ad under three Ad Formats: Classified Text- The text ads in newspapers are one of the most cost-effective option and are charged on the basis of words/lines or characters. The minimum charge for running an ad depends on the choice of edition. You can also use enhancements to your text ads by using color background,tick mark & border. Classified Display- Classified is another option that is a little expensive as they have a better visual representation. The ad format lets you insert logos and images in the ad content. They appear in columns and are charged per square centimeter. Display- Display ads have a higher visual impact in the minds of the readers. It offers more options in terms of ad sizes. You can select quarter page,half page, vertical or horizontal & front or back page depending on your budget.
The ad rates differ on the basis of the ad format, location and category you choose. Post selecting the category a complete list of ad rates appear based on the different locations and packages for classified text and display format. To know more click on the Ad Rates to have a detailed view of the cost of publishing it in different editions.
Newspaper advertisements can be designed under three different formats Classified Text Classified Display Display Classified Text Ad- Classified text is one of the simplest forms of ad which is designed by composing the ad in simple words. There is a word limit set for every category. Exceeding the limit will cost you for every additional word.You also choose to make your ad more impactful by choosing ad enhancements like color, background and tick. Classified Display- With classified display you can design your ad by inserting logos and pictures to make your ad visually attractive. You can select a single column or multi-column depending on the ad size you wish your ad to be published. These are charged on the basis of per square centimeters. You can select any pre-designed template to compose your ad. Our platform also offers the opportunity to upload your designed ad by choosing the file,selecting the ad size and color. Display Ad- Display ads gives you the freedom to publish your ad on any page of the newspaper. You can create an ad by selecting a predesigned template,upload your existing design. You can also take creative help from a team of expert if you are struggling to design your ad.
Reasons
Why advertise in Times of India ?
Times of India display advertising is highly popular amongst businesses to efficiently promote their brand.Display Ads are usually placed alongside editorial content.It is termed to be a high budget medium but at releaseMyAd we make it really affordable for you.Being the leading Times of India ad booking agents we offer the most competitive ad rates for your display Ads.We assist you in having the right placement and right positioning for your Ads as TOI allows you to book display Advertisements across multiple columns, full page,half page,jackets,quarter page,bookmarks and other custom sizes.Additionally, you can opt for specialised formats like skybus, overleaf and jacketed display ads in Times of India.We can assist you in booking your display Ads in the popular pullouts of TOI mentioned below:
Times Ascent- If you have manpower requirement, then nothing would work better for you than Times Ascent display Ads as it is very popular amongst jobseekers.
Education Times- Ideal for promoting educational institutes and making Admission Open Announcements with display ads.This pullout is highly popular amongst students,so educational institutes can get an impressive admission count by promoting themselves here.
City Times- Meant to target the elite and financially well-off audiences, a haven for lifestyle, retail and FMCG display advertisers.Advertising in this pullout section works best for brands targeting the upper-class.
Times Property-The best medium to promote real estate projects and also acquire buyers through display property ads.Advertising in this section brings high conversion for the real estate owners.
Times ZIGWHEELS-Get maximum eye-balls for anything related to automobiles with display ads in ZIGWHEELS.It is the ultimate platform for all the riders.
Business by Bids- Fulfill your Business requirements effectively with public notice, tender and business ads.
With Times of India display advertising, you can also publish Display Obituary ads in the main newspaper on any preferred page to offer your prayers, condolences and respects to your deceased loved ones .
View Times of India Ad Rates
View Times of India Ad Rates
---
| Supplement | Category | Publishing Day | View Details |
| --- | --- | --- | --- |
| Court Notice | Court Notice | All Days | |
| Main Newspaper | Financial | All Days | |
| Times Property | Property | Saturday | |
| Education Times | Education | Monday | |
| City Times | Others | All Days | |
| Financial | Financial | All Days | |
| Public Notice | Public Notice | All Days | |
| Tenders | Tenders | All Days | |
| Times Ascent | Appointment | Wednesday | |
| Times Tribute | Obituary/ Remembrance | All Days | |
Booking Process
Times of India Ad Booking Process
ReleaseMyAd provides you with instant booking facilities for advertising in Times of India. As the authentic and certified Times of India ad booking agency, we give you a trustworthy and hassle-free platform for booking your newspaper display ad online in the following simple steps:
Firstly, make your selection of the main newspaper or any of its category specific supplements along with the desired location for your TOI display advertisement.
Next you can choose the ad size: Quarter, Half , Full or Custom ; ad type: Colour or Black & White and Ad Position: Front , Back , Third or Any page. Times Of India also allows you to explore innovative advertising through Jacketed, Pointers and Skybus display ads.
Once you specify your needs, you can view the Advt Cost and Package rates.Not Only this, releaseMyAd makes use of its experience and expertise to get you further discounts.You simply have to click on the 'Start Media Negotiation' tab , fill in your display ad requirements and leave the rest to us.
You can then proceed towards composing your ad by choosing from our existing ad templates simply uploading your advertisement design in PDF/JPEG/TIFF format. You can also avail expert help and feedback from our designing team.
All that's left to do now is clear the payment via our several offline or online channels that are SSL encrypted and therefore 100% secure. You receive instant confirmation of your display ad booking once payment is done.
Remember to book your TOI display ad at least 3 days prior to the print date.

For any further assistance in your Times of India Display ad booking process do not hesitate to contact us via phone, mail or chat with our customer service experts.