Book your Main Newspaper Ads with Times of India Instantly Online
According to the Audit Bureau of Circulations(India), The Times Of India is the third largest newspaper in India in terms of circulation. Owned and published by Bennett,Coleman&Co Ltd, the oldest English language daily newspaper in India has pioneered the search for truth since times immemorial. The main newspaper pervades through current affairs ranging from sports to politics to global issues of immediate significance.
PUBLISHING DAYS
Booking Deadline
Minimum Size
Where is Main Newspaper published from ?
LOCATIONS
---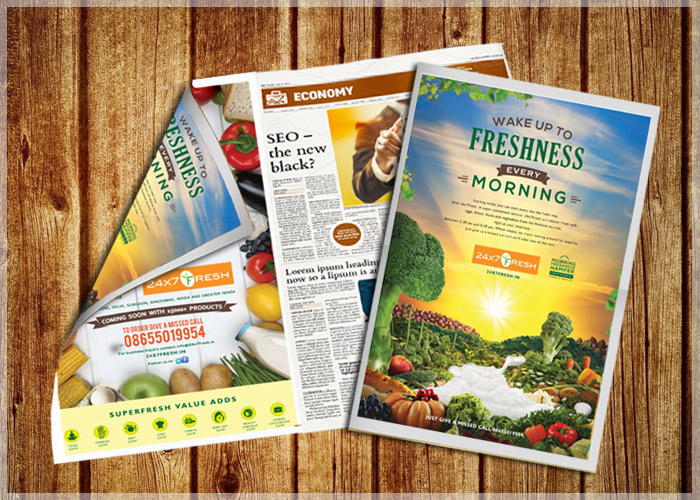 Jacket Full Page
33cm x 52cm
These display ads are placed on the Front Page of the newspaper on both the sides. They are available in the dimensions of 33 cm X 48cm
Half jackets
16.5cm x 52cm
These display ads appear on half of the front page in a newspaper. Half-Jacket ads are available in 16.5 cm X 52 cm dimensions.
Book Mark
3cm x 52cm
Bookmark ads peek out of the newspapers just like a normal bookmark marking the page where your ad has appeared. You can choose to book a full/half-page ad in this case.
Pointers
4cm x 5 cm
Pointer ad appears on the left-most column of the main page. This small ad appears in 4 cm X 5 cm size.
SkyBus
33cm X 5cm
These ads materialize under the masthead of the newspaper in the main page and are 33 cm in length and 5cm in width
Advertorial
Any Size
Publish an article about your product / service - to be placed alongside regular editorial content. You get to choose your headline, text & visuals.
Discount Packages

DISCOUNT PACKAGES

---

Release in Times of India (All Editions)

Rs.

16890 / sqcm
Book Now

Times Of India (Mumbai + Pune + Nagpur + Ahmedabad + Vadodara + Delhi + Chandigarh + Lucknow + Kolkata)

Rs.

2570 / sqcm
Book Now

Times Of India + Economic Times + Navbharat Times + Maharashtra Times + Sandhya Times + Vijay Karnataka + Mirror + Eisamay- (All Editions)

Rs.

3855 / sqcm
Book Now

Times Of India (All Gujarat)

Rs.

1000 / sqcm
Book Now
Why advertise in Main Newspaper ?
WHY ADVERTISE ?
---
Times of India is India's most popular newspaper in terms of readership which is about 76.43 lakhs (as per the IRS) as well as the circulation which is around 31.4 lakhs (as per the ABC). It has attained this level of popularity due to the quality of journalism and extensive reach.
Why Advertise in the Times of India?
Times of India has created and groomed some of the best journalists of the world who have contributed largely to the world of media. The quality of journalism and the versatility in the style of news of reporting added to the ever-growing popularity of the newspapers. It recently celebrated 175 years of its stay and fame in India which was attended by the entertainment and journalism fraternity.
Advertising in the main newspaper provides much more exposure to your brand name since it has a larger audience base compared to the supplements of the newspaper.
The main newspaper display advertising provides advertisers with the scope of publishing multiple ads within one week whereas in case of pullouts the ads are published only on a weekly basis. Frequent and regular release of display ads are almost a mandate in case of events and seasonal discounts or sales.
With the largest circulation and readership among all the English dailies of India, the Times of India is capable of reaching out to much larger audience for your advertisement.